Want To Know Why ProstaGenix Is The Number 1 Natural Prostate Solution In The World?
Our Customers Will Tell You!
The testimonials are real. These are real men. Real Customers of ours. Our office is flooded with praise and thanks for the life-changing effects ProstaGenix is making in men's lives all over the world! Just look at what a few of our customers have to say. Remember, these are real men. Not fake testimonials like the other companies. These are real men, just like you.
Hello Prostagenix,

I wanted to thank you so much for your excellent product. I have tried several other brands without much effect and soon after trying Prostagenix I noticed great improvement in flow and any lack of urgency to go to the bathroom, day or night. Prostagenix really does keep a healthy prostate in check.

A nice benefit for me also is the help in intimacy. A healthy prostate is magic for your sex life, and that is where Prostagenix shines for me!

When I've read the independent lab reports that Prostagenix is number 1 rated, I see why. That is why I tried it, and that why I agree with those findings. I recommend this product for any man over 50. Thanks Prostagenix and I'm a customer for life.

Steve,
West Linn, Oregon
To Whom it may concern,

I have never written a testimonial for a product before, however, I have felt to do so now. I would like to say how much I like ProstaGenix. It has helped me sleep longer at night and reduced the urge and frequency during the day. I found the product to be as advertised and more. I chose ProstaGenix after doing an extensive internet search and found your product identified as the #1 product rated by consumers like me and now I know why.... it is # one!

I felt an immediate response to your product that very night. I chose the monthly delivery as I saw and feel the value of your product. I use it as directed and find it works best that way. If you ever need a spokes person for your product, I'm your guy.

Thanks again for making such a find product to help me and others needing prostate health like me.

A truly satisfied customer,

Rick Newton
Houston, Texas
Hi, just wanted to tell you how ProstaGenix has been a life saver for me!!!!!!! I'm 68 and have been having problems with my Prostate for 13 years. I have tried virtually every product out there with no success and finally had to go to a Urologist, who put me on (2) prescription meds. The meds worked but with side effects that were terrible!!!!! When I saw the Larry King video, I was very skeptical after trying everything out there over the years, but I thought what do have to loose! This product has turned my life around, and I'm so grateful!!!!!!! Thanks for a new lease on life!!!!!!

Creighton Belt
Las Vegas, Neveda
I have tried ProstaGenix for (30) days and have noticed an improved urinary flow with reduced urgency, at 65 I now have better sleep patterns. I like this product because it has a natural vitamin and mineral blend of ingredients.

Because of my experience with ProstGenix and the high number of excellent (5 star) customer reviews I have faith in this product above what I have used in the past so I'm reordering (3) bottles rather than (1).

Ron in Wisconsin
Hi, Bob Moody here, I have been using Prostagenix for 6 weeks now. When I started using the product I was having difficulty urinating, had some discomfort and was getting up 4 or more times every night. I saw my urologist to make sure there was nothing medically wrong with me. After different tests were performed the Doctor told me it was typical prostate activity for my age. I researched Prostagenix and liked what I read. I took it as directed. I noticed a difference after about 3 weeks. The discomfort decreased, my urine flow was increased and was getting up only 2 times per night. I am very satisfied with your product and would recommend it.

Thank you,

Robert Moody
Walton, New York
The ProstaGenix product-is-very-good. I recommend everybody with prostate problems to try it. I can not tell you how much it has helped me. Literally incredible.

Richard Pena
San Antonio, Texas
I would like to let you know that have used Prostagenix in the past, and it works great. I ran out a few weeks ago and I can really tell the difference. Thanks so much for your product. I have a much better night sleep when I use it.

J. Dean
Las Vegas, Nevada
I watched a Testimonial by Larry King and decided to try ProstaGenix. I have been taking the product for over a month now and I feel an improvement. I am a type 2 diabetic so the night time bathroom visits are many but they have been reduced now. My doctor gave me THE prostate exam yesterday and said I am good. I believe my situation will improve with your product.
I am a very satisfied customer.

Best regards

Robert Gresko
Dorval, Canada
Dear Fred,

Thank you for the information you sent on the uselessness of the PSA test. If I had received it two weeks earlier, I would have saved myself the fifty Dollars that I spent on the test in St. Paul Minnesota. Can I protest and ask for a refund on the strength of your letter? their luck.

I have almost finished my first bottle of ProstaGenix and I must say that I am beginning to notice some improvement in my BPH symptoms.

Frequency of urination has reduced and urinary flow is still weak but I look forward to its improving also. Of course when I am intemperate climates with cold, the urgency is much worse. In my last visit to the USA the urgency and frequency was exacerbated by two other symptoms that I found both annoying and inconvenient. My urination was accompanied every time by loud farts with foul odor and sometimes a burning sensation in my urethra. I am glad that both these symptoms have reduced. I hope that as I continue to the second and third month of ProstaGenix, they will be eliminated altogether. My sleep pattern is also improving as I now have to go to the toilet at most twice from the time I go to bed around midnight and 06:30 when I wake up. I hope this continues as I see my productivity improving with a better sleep and rest cycle. I celebrate my 66th in January.

Atsen J. Ahua.
St. Paul, Minnesota
Before I started using Prostagenix I had a very weak urine stream. I also found it extremely difficult to maintain or even obtain an erection.

After trying Prostagenix my urine stream went "almost" back to normal and getting or even maintaining an erection was no difficulty. The thing you should know is I've only almost finished my first bottle and I am very confident that when I complete my second bottle, or before I finish the second bottle, these symptoms will get even better. It's funny, but I feel young again with both my symptoms now almost back to normal. Would I recommend this product to anyone having similar issues the answer is "YES". No side effects and easy to swallow.
By the way I am 58 years young!!!

Glenn McNeilly
Calgary, Canada
Early last year I started having problems with urination. I was fairly sure it was due to my prostate because a few years ago I was diagnosed with early stage prostate cancer and my urologist was checking it every six months. I informed him of my difficulty and he gave me medication to relax my lower bladder valve. This had a side effect I was not happy with so I discontinued it and informed my doctor. He didn't seem to have another option. I then heard of saw palmetto and gave it a try. After two months with no relief I stopped using it. I went to the internet and found Larry King's video on Prostagenix and thought what the heck I'll give it a try. I bought a bottle of Prostagenix to try it myself for a month. In a couple of weeks I noticed that the urgent need to urinate frequently had improved.

In the third week I noticed that the difficulty of urination had eased. Everything was not perfect, but much improved. Because of the reduced need to urinate frequently and the less "back pressure" on my system I have now purchased a five month supply of Prostagenix and am confident that I have made the right choice. I fully expect that continued use will improve my problems and has already eased my mental stress of always looking for a bathroom.

Thanks Prostagenix,

Gregg Mustered
Fairbanks, Alaska
This is what ProstaGenix has done for me. Everything has changed in my life since I started taking this wonderful product my strength has come back I sleep good every night now. I wake up feeling ready for the world all I'm saying is try it for yourself it will change your life men. I am serious.

Michael Brandon
Big Spring, Texas
I started taking Prostagenix about three weeks ago and noticed immediate improvement. I only got up twice that first night and the few nights after that. Since then I'm pretty much down to once a night and some nights not at all. I bought a years' supply; in case I'm not totally fixed before that.

William Falberg
Delta, Colorado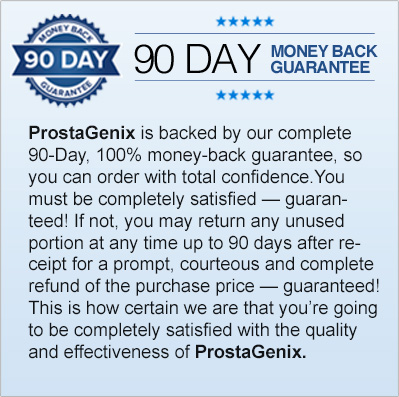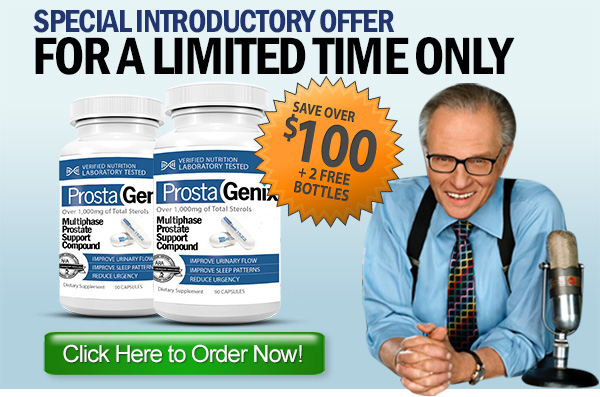 "Prostate Insurance for my later years."
It seems like all you hear about is famous men getting prostate problems. Dennis Hopper, Robert DeNiro, Arnold Palmer, Tiger Woods' father, and on and on. I'm only 46 and I am using ProstaGenix as a kind of "prostate insurance" for my later years. Thanks for your research to develop this great product.

Bill Q., Houston, Texas
"I have been taking it for months and have never felt better."
I just wanted to let you know that I am greatly pleased with Prostavar. I have been taking it for five months and have never felt better. I started to notice a difference after a few weeks, but I noticed a major difference in about six weeks. Each and every week I feel a little bit better. I had classic prostate symptoms like going to the bathroom constantly, and urgency prior to taking ProstaGenix. But those prostate problems have been greatly diminished.

John, Texas
"I feel like a real man again."
I tried Flomax and other drugs and they all had size effects I couldn't deal with, such as headaches and dizziness, and they wiped out my sex life. But everything has been great with ProstaGenix. I feel like a real man again.

Bob L, San Jose, CA
"Your pills are the first ones that
actually work."
I ordered a bottle of Super Beta Prostate after constantly hearing the ad on the radio, and quite honestly it didn't make much of a difference for me. I also tried a few of the herbal prostate pills they sell at GNC and those didn't work either. Then I saw your ad in the sports section of the paper and decided to give it a try. My prostate problems were the biggest problem in my life. My PSA score was not high, but I was just like the guys in the TV ads running to the bathroom all the time. I can't tell you how many times I have pulled my car off the road and taken a leak behind a tree or behind a building. No more. My prostate difficulties are almost all gone. They are not totally gone, but the improvement has been night and day.

Jim F., Las Vegas
"I don't feel like a loser around my wife anymore."
I can't tell you how happy I am that I found your product. Heard a radio ad and read about them on the rating site. You have changed my life more than you can imagine. I used to sleep in a different room from my wife on a small bed because I would get up so many times at night she couldn't sleep. I now sleep through the night. I'm back in the master bedroom. I don't feel like a loser around my wife anymore. There is definitely a psychological aspect to having prostate problems that I don't see discussed much, but I really felt embarrassed in front of my wife like I was not as good as other men. Now I'm telling you I feel great and its carried over into all parts of my life. I will take this product for the rest of my life. And I appreciate the other tips you have sent me and I take green tea capsules and a few other things as well.

Arthur from Boston
"ProstaGenix is the Jack Nicklaus of pills – the best ever."
ProstaGenix is the Jack Nicklaus of pills – the best ever. I love golf and play 5 days a week. I tried everything with no luck. I can't take the prescription pills my urologist was recommending so he told me about you formula. I feel better than I did 10 years ago. Only wish I found you earlier. Tremendous product.

Name withheld
"I no longer have to make sure I'm not too far away from a
bathroom all the time."
I got tricked into trying a few of those free bottle deals you see on TV and the pills didn't do much for me. You pills ProstaGenix is truly an outstanding product. I'm 74 and figured I've have to live with prostate problems to the end of my time, but I feel great again. Really respect everything about your product and your company. Classy and good science.

Harold H., Chicago area
"I believe in mother nature and I know the difference
ProstaGenix had made in my life."
I watch a show on PBS with Dr. ******** and he had me so convinced that natural products are effective. His company does not have a prostate pill so I did some research and found out that your pills are rated the best. Never tried any of the competition but I am sending you this note to let other men know that this pill works. I believe in mother nature and I know the difference ProstaGenix had made in my life. I no longer have to make sure I'm not too far away from a bathroom all the time.

Carl T., Del Rey Beach, FL
"In about three months all my problems went away and I will
be a loyal customer for a long time, I can guarantee you that."
I can't tell you how many times over the last 5 years I've had to pull my car off the side of the road to relieve myself behind a tree or behind a building. I have been urinating like 20 times a day, every day for year. I am not a candidate for prescription pills due to heart medication I take. I was afraid I was going to develop very serious prostate problems. In about three months all my problems went away and I will be a loyal customer for a long time, I can guarantee you that.

Curt K.,