ProstaGenix is the first – and only - oral dietary supplement with over 1,000 mg of mixed sterols including over 552 mg of BetaRexin sterols (imported from the Landes Forest of France) which has been shown in multiple peer-reviewed, published, double-blind, human clinical trials to improve prostate health. These improvements have as measured by the famed International Prostate Symptom Score (IPSS).
How does ProstaGenix work?
ProstaGenix's high-potency ingredients work to help maintain the health of your prostate while supporting urinary function.* Men taking non-prescription ProstaGenix report the same benefits identified in multiple published, human clinical studies, published in prestigious medical journals including the British Journal of Urology, the medical journal The Lancet, and reported on PubMed.gov on beta-sitosterol.

Just like the men in the published clinical trials, our customers experience fewer bathroom visits, less waking during the night to urinate, a decrease in urgency, and more complete bladder emptying.*

Many of our customers also report an improvement to their romantic life.
What are the ingredients in ProstaGenix?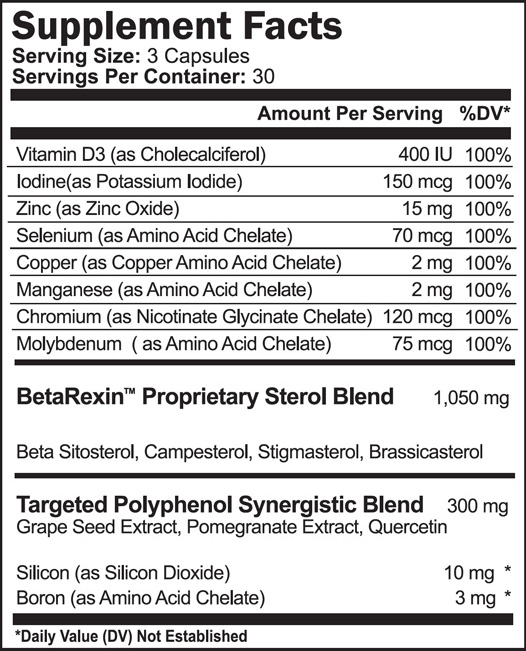 Yes. ProstaGenix is not a drug. All of the ingredients in ProstaGenix have a history of safe use with no known side effects.
Is ProstaGenix FDA Approved?
ProstaGenix is considered a dietary supplement, which is regulated by the FDA. As a company we ensure that we meet or exceed all applicable FDA regulations.
Can I take ProstaGenix with my medications?
ProstaGenix has no known contraindications with medications. However, if you are taking any medications you should always consult your doctor before taking any dietary supplement.
How often do I take ProstaGenix?
The recommend dosage is three (3) capsules per day. You can take them with or without food, any time of day that works for you.
I heard ProstaGenix also lowers cholesterol?
Yes this is true. The FDA has approved claims showing that taking more than 800 mg of mixed sterols, when combined with a healthy diet and exercise, has been shown to lower LDL cholesterol levels.

ProstaGenix easily surpasses this 800 mg of sterols per dose and we are therefore allowed to make the FDA claim about lowering cholesterol. A large number of our customers report lowering their cholesterol as a result of taking ProstaGenix.

This is a significant bonus in addition to the prostate health benefits. We are not aware of any other prostate supplement that can make this claim, since none of them have been publically tested to contain more than 800 mg of sterols.
How many capsules are there in a bottle of ProstaGenix?
Each bottle of ProstaGenix contains 90 capsules. The daily suggested serving is 3 capsules, so each bottle contains 30 daily servings, a month's worth.
When is the best time to take the ProstaGenix capsules?
They can be taken at any time, with or without food. It is up to you. Whenever it is convenient for you. There is no best time.
Do you offer a money-back guarantee?
Absolutely. We offer an iron-clad, no-nonsense, 90-day money-back guarantee, so you can order with complete confidence. We have very few requests for refunds. But if for some reason you are not happy with ProstaGenix, no problem... just contact our toll-free Customer Service Hotline 1-800-796-0234 (Monday – Friday 8 AM – 5 PM PST) and get our return address. You have 90 full days to try ProstaGenix. But if for any reason you are not happy with ProstaGenix, we will cheerfully give you all your money back and we part friends.
How does ProstaGenix differ from other products claiming to improve prostate health?
ProstaGenix is truly one of a kind. There is excitement all around ProstaGenix for a reason. Our formula is the only formula on the market to contain BetaRexin, the sterol mixture featuring beta-sitosterol from the famed Landes Forest in France. It is documented to be the most potent source on the planet!

The difference in quality, potency and effectiveness between our exclusive proprietary source and other beta-sitosterol is dramatic. Multiple lab tests prove this.
I have tried other prostate products and they didn't work for me, how do I know Prostagenix will be any different?
Independent laboratory tests named ProstaGenix the best prostate supplement in the world! Over 172 different products were tested, including all of the top selling, most famous brands, and we came out on top in each and every analysis.

Our happiest customers are the men who have used other brands, in most cases multiple different brands, with no success. Then they start taking ProstaGenix and their prostate support improves. They feel like their old selves again!
How is my order shipped to me?
We ship Monday through Friday and often within 24 hours upon receiving your order. Standard shipping takes between 5-10 business days within the U.S., depending on your location. Rush shipping is also available.

You order is sent in an unmarked package to ensure your privacy 100%.